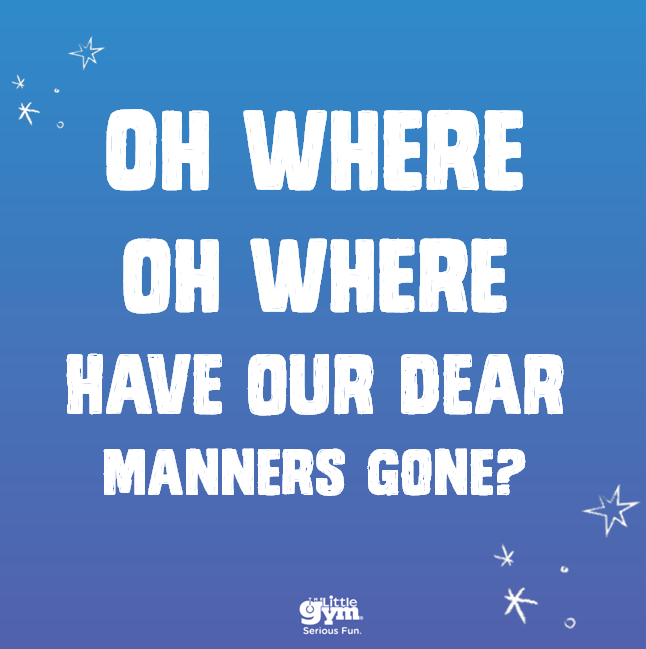 Good manners are not something that children will naturally pick up. Children need to be taught, reminded, and reminded again of the importance of having good manners. Good manners help children become well-rounded adults. The trick is to teach your child manners that are age-appropriate so they are able to understand why manners are SO important! Here are 6 manners that are at the top of our good-manners list.
"Thank you" is a word that both parents and The Little Gym instructors cannot stress enough! A simple thank you sends a powerful message of gratitude. When someone does something for you, gives you a compliment, gives you a gift, etc. it is important to always say thank you. When a child is old enough, a good practice is for children to write their own personal thank you notes when receiving a gift or spending time at a friend's house. A written note goes a long way!
"Please" or "the magic word", is an important tool for children to get what they want. Please is a great manner to learn for even children who are not yet talking. If a child wants something it is important for them to use their manners by expressing 'please' and following it up with a 'thank you'.
"Excuse me" or "pardon me", at a certain age children should learn not to interrupt adults when they are having a conversation. Rather, they should learn to wait their turn or say 'excuse me' or 'pardon me' if they need to interrupt. These phrases also work when in public and your child needs to get around a person who may be in their way, or when your child bumps into someone by accident. By using 'excuse me' or 'pardon me' your child will not only be heard but will be doing this in a positive manner.
"Hello" and "goodbye"; Greetings and goodbyes are basic functions of communication. Beginning at a young age children should learn the appropriate way to address people when they enter and leave a room. Greetings and goodbyes are a great way to teach children how to interact with one another.
Table manners; starting at a very young age children can learn table manners. Starting when children begin eating solid foods they are often re-directed when throwing or spitting food. This helps children learn what is acceptable and what is not. When children get a bit older it is important for them to learn basic table manners; knowing how to use your utensils, asking for things to be passed when they are out of reach, and asking to be excused when they are finished with their meals. Basic table manners follow children throughout their lives and helps parents enjoy their mealtimes as well!
Be kind to others; it is important for children to learn how to be kind and positive. Teaching children that mean words and teasing is hurtful helps a child understand the importance of kindness.
Practice makes perfect – keep practicing and reminding your child of the importance of having good manners. Be repetitive, if your child does not say please then simply make them 'say the magic word' and they will begin to catch on! Often times role-playing is a great way to have your child experience the appropriate way to act in certain situations. Great manners go a long way and it is best to begin good practices at a young age!